Sweden's third biggest city, called the City of Parks. Malmö has quite a few attractions when it comes to the landscape sector. Accept from the parks, there are theme play grounds around the city, a limestone quarry turned into a nature reserve (you need to book tickets for a guided tour to be let in there, but it is a fascinating view from above as well) and alot of flowers around town.
The official visitor site of Malmö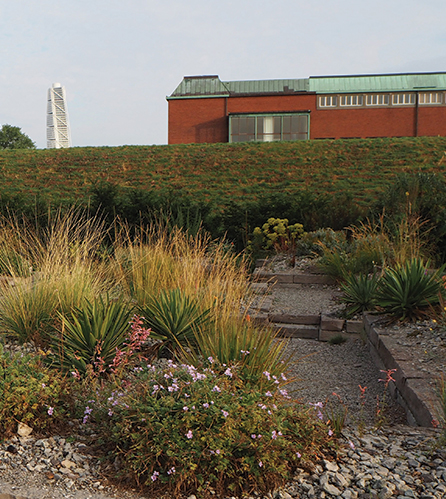 Kungsparken & Slottsparken
These parks are about a ten minute walk from the conference hall. Next to Malmö Castle Garden/Slottsträdgården (below).
Kungsparken is the oldest park in Malmö, opened in 1872. This park was designed with the English garden ideals in mind, for the bourgeois people.
Slottsparken is connected to Kungsparken. With ideals from America and landscape architect Olmstead, this park was designed for all social classes. It opened in 1900.
Västra hamnen , the Western Harbour, is in the western parts of Malmö, by the sea, you can see one of the largest residential construction projects of Malmö. It started in 2001 and is due for completion after 2030. It has always attracted architects and landscape architects because of the pioneering environmental solutions and innovative architecture.
It is also in this part of Malmö we have the tallest building in Scandinavia (190,4 m); Turning Torso by Santiago Calatrava.
A few hundred metres from Turning Torso, you can have a look at one of Klinta Trädgård's plantings, designed by Peter Korn. It was planted in early 2019, along the wind exposed walk at Barometergatan.
Cementparken is a park where concrete from the former concrete factory, has been used a the substrate in most of the planting beds. It is Malmö city council who desigend it and it opened in 2016. Garden journalist Lisa Ising writes about it (Swedish) in a short and descriptive way. There is no webbpage for it, but you can see pictures and find the address, by searching Cementparken Malmö.
Trädgårdspaletten is the best nursery experience in Malmö. With a very personal touch and plants of good quality, this family business stands out.
Klinta Trädgård in cooperation with Stockholm based company Butong, have resulted in a few green wall projects in public spaces in Malmö. Planting design: Peter Korn.
P-huset Anna (multistorey car park)
Godsmagasinet (multistorey car park)
Eco City Augustenborg & Green Roof Institute