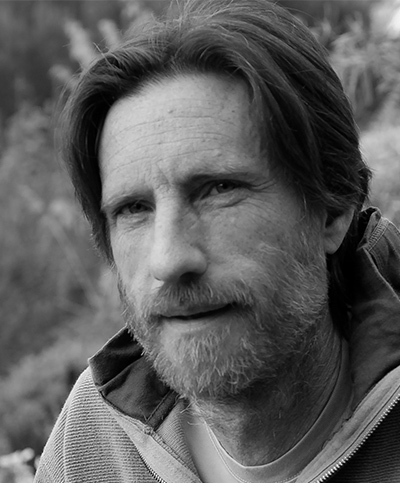 Plantsman | Pépinière Filippi
France
Olivier Filippi and his wife Clara run a specialist nursery, located in the South of France, dedicated to drought tolerant plants. Olivier and Clara started their research in the 1980s and since then have travelled extensively throughout the Mediterranean and to similar climate regions around the world to study plant adaptation in dry climates. Their experience of plants in the wild and their experiments in their own trial garden have given them a unique understanding of the needs of dry climate plants. Based on their knowledge of landscape dynamics across the Mediterranean, they continue to work on a new approach to low maintenance and pesticide free gardens for dry climate regions.
Olivier is a photographer and author of several books. He lectures frequently on dry gardening techniques and design inspired by Mediterranean landscapes.
16 September at 15.45
Understanding nature
Gardens and green spaces, often traditionally designed mainly for their decorative interest, are now more and more designed as functional ecosystems which include positive interactions with beneficial insects and soil organisms. Understanding the long term dynamic of evolution of the garden seen as an ecosystem allows to decrease maintenance in drought adapted and pesticide free gardens. Olivier Filippi will explain how germination ecology in post disturbance Mediterranean landscapes can be an inspiration for low maintenance garden design in a changing climate.
17 September at 14.00
Gardens for the Future
Designers in different climates tend to use gradients between herbaceous ecosystems based on summer flowering scenery and subshrub drought tolerant ecosystems relying on evergreen foliage and summer dormancy for their aesthetic interest. Climate change may bring a revolution in thinking along that gradient, blurring traditional frontiers between 'Temperate' and 'Mediterranean', particularly in artificial urban environments with high climate and soil constraints. Gardeners of the future may have to face a major change in the flora adapted to new conditions, a shift in aesthetic cultural perception and a change in gardening techniques, from soil preparation to maintenance practices.